Medusa is one of the most famous figures in Greek mythology. She was one of the gorgon sisters who used to be known for her head of snakes and reptile skin. Some people say that she was extremely beautiful, whereas some consider her to be evil and cursed. Medusa tattoo is quite popular amongst females as a mark of bravery as some use them to ward off the devil. Initially, Medusa design was used on armors as a symbol of protection. Later it became famous as a tattoo.
These tattoos are different and beautiful tattoos that have various meanings and interpretations. The tattoo symbolizes power and rage. Her hair and skin are also believed to be symbolizing life cycle, death, and rebirth.
There are different ideas to interpret this kind of tattoo and also various ideas to have it inked on the skin. Here's a list of spots where a medusa tattoo would look good.
So in case you are looking for a powerful tattoo, go for a medusa skull tattoo. Try having it on a part where the tattoo covers all details of the design and suits you well.
1. Chest Tattoo
Chest tattoos are beautiful. Especially for women, medusa is a sign of power, so why not get it inked on the chest right near the heart. That would mean something close to the wearer, as well as it would look beautiful on such a spot. Also, it would look stylish, and you can flaunt it wearing crop tees or crop tops and dresses.
Though a tattoo at such a spot will be painful, remember that the results would be worth it. Just remember to be careful while getting it inked. The results will not disappoint you.
Also, if you just want a tattoo for yourself and don't want to flaunt it, having it on your chest would be a good choice as it is easy to keep it covered there.
Features:
Extremely painful
Cool and sexy
Easy to hide
aesthetic
Read More: Best Butterfly Tattoo Behind Ear
2. Stomach Tattoo
Getting a tattoo on the stomach is deemed as one of the painful areas to get inked, as the pain experienced and later effects of tattoo-like swelling and redness are worse at that spot.
But when it comes to fashion and styling, the spot would be quite appealing to have a tattoo. A tattoo on the stomach is easier to both flaunt and hide. Also, some women who wish to hide their marks and scars choose to get their belly inked with some tattoos.
These tattoo needs larger space to look detailed, and the stomach is one of the areas where there is good space to get the tattoo inked completely.
Choosing to get a tattoo on the stomach has its own drawbacks as the shape of the stomach changes over time, and skin is affected by the change of shape.
Features:
Can be irritating
Discomforting
Stylish
Easy to expose
Intimate
3. Calf Tattoo
If you are thinking of getting a bold and stylish tattoo that doesn't cause that much pain and is easy to hide and flaunt, then why not get a calf tattoo?
The calf is a bold and suitable area for a tattoo to be inked. A tattoo on calves would look alluring and sexy. You can wear shorts, skirts, and dresses to flaunt that tattoo on the calf or can choose to go with track pants or jeans if you want to cover it.
A powerful tattoo designed with a medusa representing boldness and rage inked on the calf would have its own influence and statement when seen by anyone. Also, the wearer would be bold, stylish, and cool with a tattoo on such a spot of the body.
Features:
Bold
Fashionable
Less painful
Looks sexy
Less discomforting
4. Hand Tattoo
Hands are always a good and first option we can think of for getting a tattoo. If you are one of those people who like to adore their hands and want a tattoo at a place where it is easily visible to you, hands are the right choice.
Hands are a part of the body that is exposed all the time. So getting a tattoo on your hands would be a good option if you want to flaunt it well. Though it would be painful, it would always look cool.
Features:
Always exposed
Extremely painful
Cool and trendy
Read More: Best Skeleton Hand Tatto
5. Forearm Tattoo
A forearm tattoo is quite a discomforting one, but the pain is moderate there. And if you are more into bodybuilding and have a good and appealing forearm, you must go for a forearm tattoo.
Many sportspeople choose to get a tattoo on their forearms. Usually, people who want to flaunt their tattoo and forearms choose to get a forearm tattoo.
Forearms have good muscle and space to get a detailed tattoo and are better options than hands and wrist.
Features:
Moderate pain
Looks Cool
Easy to flaunt
Easy to hide
Sufficient space for detailing
6. Back Tattoo
Getting a tattoo on the back is quite a task as it would be painful. The closer the tattoo is to bones, the more it is going to hurt. But a back tattoo is always going to look cool and powerful.
But the thing about a back tattoo is you can flaunt it all you want but can't see it by yourself. It would look impactful, though, and you can expose it whenever and however you want to.
If you want to have a tattoo that you can adore by yourself, then don't choose that spot.
Back would be a perfect and suitable spot for the detailed and large medusa tattoo as there is more space. You can get it done in any size you want. These tattoos on the back would have their unique statement.
Features:
Any size of the tattoo
Enough space for extra elements
Bold
Quite painful
Stylish
Easy to hide
7. Arm Tattoo
A medusa on the arm, especially on a well-built, shaped, and maintained arm, would look fantastic and swaggy. 
The impact of a tattoo on a muscular spot is different and represents bravery and danger. People also believe it as a sign of strength. Also, with well-built muscles, the pain would be lesser but would still be a little discomfort in the beginning.   
Also, when it comes to exposing tattoos, arm tattoos is one of the most influential tattoos. And not only it's easy to expose, but also when it comes to covering up, it is also easy to conceal it.
Features:
Symbol of strength
Gives a powerful statement
A little less painful
Classic
Aesthetic
8. Thigh Tattoo
If you want your tattoo to be at an intimate spot and a less painful spot, get it inked on your thighs. Due to sufficient muscles and fat, it hurts less than other parts of the thighs. Also, there are fewer nerve endings there. So it will be one of the safest spots to get inked.
Also, the thighs are considered as one of the sexiest areas to get inked. The exposure of tattoos on thighs completely depends on the wearer.
The upper thigh from the front has a good amount of space for a detailed and medium-sized tattoo.
Features:
Intimate
Less painful
Detailed design
Easy to hide
Less discomforting
Now that we have discussed suitable spots for a tattoo, let's have a look at various styles and designs that can enhance the beauty of Medusa tattoos.
9. Medusa Skull Tattoo
Amongst various meanings associated with the medusa tattoo, one is about the life cycle, i.e., death and rebirth. The snake hair of medusa is considered a mark of the life cycle. The tattoo of her skull, including the snake hair and facial gaze, is considered one of the stunning and powerful medusa designs.
The medusa skull tattoo is something that can easily catch anyone's attention. She was considered beautiful before the curse, but it is believed that even after the curse, her face had the power to catch anyone's eye.
10. Perseus and Medusa Tattoo
Medusa's tale is seen with different interpretations, and people who get it inked have different perspectives. One of the designs of the tattoo shows a medusa is in which Perseus and Medusa both are included. The interpretation of this tattoo is the symbol of bravery, and sometimes it is also seen as vengeance. 
As per the mythology tale, Perseus beheaded Medusa, and this action of Perseus is considered a sign of bravery. That is why the design of the tattoo features Perseus holding the head of Medusa after he beheaded her.
Perseus here is considered a hero, and the tattoo signifies victory over evil.
So, having this tattoo signifies wrath, the power of vengeance, and is also seen as a mark of victory.
11. Medusa Statue Tattoo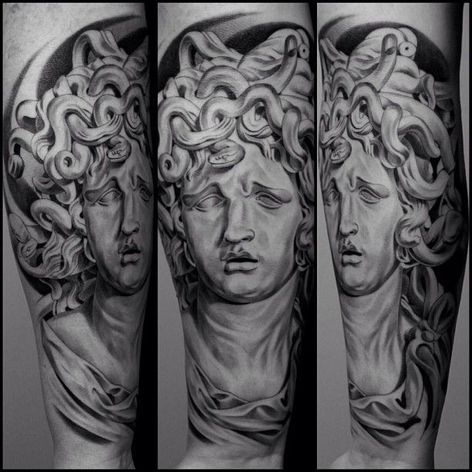 Another design or idea one can go with is a medusa statue tattoo. The statue of Medusa signifies feminism to some and bravery to others. The statue of Medusa is also used to ward off evil powers.
Where some choose to have just the skull of Medusa as a tattoo, some others choose to get the whole statue as a tattoo. An artist also chose to make the statue of Medusa by reversing the roles, where Medusa is holding the head of Perseus.
Females use this tattoo to signify their power, strong will, bravery, and wrath.
The tattoo gives a powerful statement itself and seems to give an idea of freedom and transformation as well.
12. Coloured Tattoo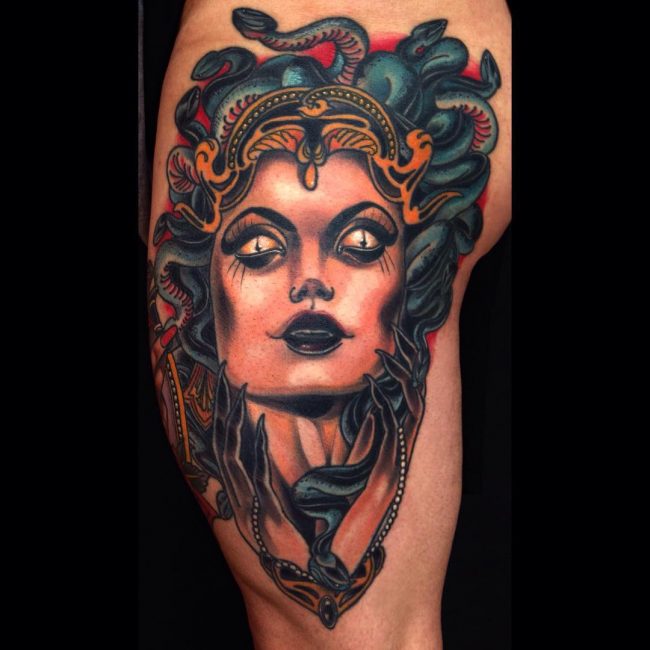 Tattoos not only look good in black ink, but they also look alluring and impressive with colors. So if you are one of those who like it in colors and are ready to give a bold statement with a tattoo that looks powerful and visually appealing, then a Medusa-colored tattoo would be great.
The tattoo with colors looks more detailed and creative. Try it on your arms or back. To retain the colored tattoo for a longer period, try not to expose it more in sunlight.
13. Dark Tattoo
The face of Medusa after the curse was like a monster. It was scary as her hair was snake hairs, and her skin was reptile skin. According to the curse, the gaze of Medusa had the power to turn anyone into stone.
So females who want to have a terrifying and appalling tattoo must consider having a dark Medusa tattoo. The tattoo gives a scary look but still looks cool.
Some of them include forked tongue, snake hair, big eyes, and fangs as well.
Having a scary tattoo usually intimidates people and also gives an idea of a strong personality.
14. Traditional Tattoo
If you are an old-school type of person or likes to have things in their authentic way, the traditional Medusa design tattoo design would be the right choice. The traditional Medusa design includes thick lines and bold colors. It's kind of unique and appealing.
Such a tattoo is a classic tattoo, which means you don't have to bother about the trend, the tattoo holds a unique significance and authenticity. This tattoo is worth flaunting.
Closing Thoughts:
So as said above, the Medusa tattoo has various interpretations. The part of the body that is chosen, the design of the tattoo, the wearer's perspective, and the ones who look at it, all differ a lot.
But what matters is the wearer's perspective. So when thinking about getting a tattoo, choose the part of your body accordingly. If you want to expose the tattoo, get it on the area that is mostly exposed. And if you want to have a tattoo just for your own desire, have it on parts like legs and shoulders.
Another thing that matters is the ability to deal with pain and post-tattoo discomfort. If you are comfortable with the pain and discomfort caused by a tattoo, then you can have it wherever you want to have it. In other cases, choose a part with strong muscles and fats, where there are fewer nerve endings.
Medusa's tale has many different interpretations as we discussed above. So if you are thinking of having one, have one as per your perspective of the tale. As the tattoo tells a lot about the perspective and attitude of the wearer.
The above list of different designs and ideas for medusa tattoos would definitely guide you for your tattoo. If you want to read more fashion content and be updated with trends, visit our site for more related articles.